EIT HEI Initiative in Ukraine: Boosting recovery through innovative and sustainable solutions
Interview with Ruslan Biloskurskyi, ILCA project
In response to the challenges faced by the Ukrainian education sector amid the Russian invasion, the European Institute of Innovation and Technology (EIT) and its Knowledge and Innovation Communities are actively providing crucial support to Ukrainian universities, students and staff. Recognising the diverse needs arising from the situation, these organisations are consolidating available resources both at the EIT HEI Initiative level and within its specific projects.
We had the opportunity to interview Ruslan Biloskurskyi from Yuriy Fedkovych Chernivtsi National University, a partner involved in the project Innovation Laboratories for Climate Action (ILCA). In this interview, we delve into Ruslan's engagement with the EIT HEI Initiative and explore the impact of the ILCA project on higher education in Ukraine.
This article is part of a series about the EIT HEI Initiative's support for Ukrainian higher education institutions.
Could you tell us about yourself and the EIT HEI Initiative project you are working on?
I am the Dean of the Faculty of Economics at Yuriy Fedkovych Chernivtsi National University − one of the oldest classical universities in Ukraine. Built between 1864 and 1882, the central building of the university is included in UNESCO's World Heritage List.
I coordinate the ILCA project. This initiative brings together six higher education institutions and three research organisations under the theme of climate.
The project has three main objectives: 1) training and mentoring students, academic and non-academic staff to enhance their climate innovation and entrepreneurship; 2) launching climate innovation labs and engaging different ecosystem actors in the design and implementation of climate innovation projects; and 3) providing support and resources to small and medium-sized enterprises to help them deal with the challenges and opportunities of climate change and digital transformation.
Through these objectives, we strive to drive positive change, promote innovation, and contribute to global efforts in addressing climate change and building a sustainable future.
Why did you join the EIT HEI Initiative community?
We decided to join the EIT HEI Initiative community for several reasons. The EIT's HEI Initiative provides a platform for European higher education institutions to develop comprehensive action plans that enhance their capacity for entrepreneurship and innovation at all levels. This opportunity aligns with our university's goals of creating significant impact and becoming a regional hub of innovation, contributing to sustainable growth and job creation in post-war Ukraine.
Being part of ILCA and the initiative has many benefits for our university. It allows us to collaborate with powerful partner universities such as Savonia University of Applied Sciences in Finland (our lead partner), Stefan cel Mare University of Suceava in Romania, and the University of Forestry in Bulgaria. Building on our previous successful collaborations, we can establish a robust project ecosystem that nurtures innovation and facilitates the exchange of knowledge. Moreover, the project coordinator from Savonia University of Applied Sciences, Dr Miika Kajanus, brings valuable expertise in flexible planning, team building, and strategic management.
By being part of the EIT HEI Initiative and the ILCA project, our university also gains access to resources, knowledge-sharing networks, and best practices in climate innovation and entrepreneurship. This enhances our capacity to train and mentor students, academic and non-academic staff, preparing them to tackle climate challenges and contribute to the global transition to a sustainable future.
Overall, our participation in the EIT HEI Initiative has strengthened our university's position as a leading institution in our region. It has fostered innovation and enabled us to contribute actively to addressing climate change and driving sustainable development.
Why is it important to boost innovation, entrepreneurship and deep tech in higher education in Ukraine?
Ukraine is currently experiencing an active phase of a severe full-scale invasion by Russia. Lives are lost, cities are destroyed, and infrastructure and enterprises are devastated. The environmental impact of this aggression is also severe. However, we are confident that we will emerge victorious. And when that happens, Ukraine will need economic recovery. But this recovery should not be about rebuilding the old post-Soviet industry. Instead, it should focus on sustainable and innovative solutions.
Therefore, it is crucial to develop scientifically grounded plans for post-war recovery and prepare current and future entrepreneurs for new sustainable business models and solutions. Universities play a critical role in this process as institutions that can bridge the gap between research and practical applications.
Boosting innovation, entrepreneurship, and deep tech in higher education in Ukraine serves several purposes.
Firstly, it promotes economic growth and job creation by fostering a culture of innovation and supporting the development of cutting-edge technologies. By equipping students with the necessary skills, knowledge and mindset, universities can prepare them to lead new businesses and start-ups that contribute to the country's economic recovery.
Secondly, emphasising innovation and entrepreneurship in higher education fosters collaboration and knowledge exchange between academia, industry and other sectors. By nurturing interdisciplinary partnerships, universities can create a dynamic ecosystem that facilitates the transfer of research findings into practical solutions.
Moreover, by boosting deep tech in higher education, Ukraine can foster the development of groundbreaking technologies that have significant societal and environmental impact.
How has your project boosted innovation, entrepreneurship and deep tech in Ukrainian higher education institutions so far?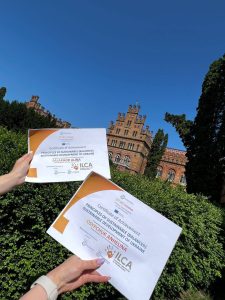 We have made some significant strides in boosting innovation, entrepreneurship and deep tech in Ukrainian higher education institutions.
We have enrolled 43 students in the micro-credential programme 'Regional manifestations of global climate change'. In addition, 16 academic staff and 2 non-academic staff participated in the micro-credential programme 'Proposal preparation'. These programmes provided specialised training and knowledge in climate innovation and entrepreneurship, equipping participants with valuable skills to drive innovation in their respective fields.
We have also launched the educational and scientific lab 'Innovative laboratory for climate action'. This lab serves as a hub for coordinating and implementing scientific research in the field of climate innovation and entrepreneurship. It also offers advanced training programmes for academic staff, organises micro-credentials for students, PhD students, scientists and entrepreneurs, and facilitates internships and diploma planning for students. The lab also runs student incubator programmes, supporting the development and pitching of business ideas and start-ups. Furthermore, it provides consulting support for aspiring entrepreneurs at various stages of their business projects from concept to commercialisation.
We have provided two months of consultancy services to three enterprises: Max Clean City, which focuses on municipal waste management, Energy of Nature, a company that sells and installs solar panels and wind turbines, and Vasyl Ivanovych Olievsky SFG, an organic farming enterprise. Through these consultations, we have helped these enterprises to grow and become more sustainable.
We have also placed significant emphasis on supporting the student business incubator within our university. The incubator fosters an environment of innovation and entrepreneurship, allowing students to gain practical experience and contribute to the local economy.
This year we conducted an extensive research project called 'Ukraine climate roadmap'. The objective was to identify the most significant climate actions required for the sustainable reconstruction and modernisation of Ukrainian cities after the war. Our project team presented the research findings during the Humanitarian Networks and Partnerships Week in Geneva, Switzerland, highlighting the importance of climate action in the post-war recovery process.
How has the Russian invasion impacted your project activities?
The Russian invasion has had a significant impact on our project activities. Any form of activity in Ukraine has become more challenging due to the ongoing war.
On the one hand, we face constant air raids and shelling, and there are frequent power outages and blackouts. These conditions create obstacles for project work and hinder business operations. The safety and security of project participants and staff members are of utmost importance, and we have had to adapt our activities.
On the other hand, we recognise the importance of continuing our work. It is crucial to maintain economic activity, pay taxes, and support the overall economy of the country. In response to these challenges, we have adopted innovative approaches and business models that prioritise ecological sustainability. By embracing new technologies and sustainable practices, we aim to create resilient and adaptable solutions that can thrive in the face of adversity.
While the Russian invasion has undoubtedly posed obstacles to our project activities, we remain committed to our goals and continue to explore opportunities for collaboration, innovation and entrepreneurship. By staying resilient and leveraging innovative strategies, we strive to contribute to the economic recovery and sustainable development of Ukraine.
What is next for your project?
Our project will continue its activities and strive to achieve the planned objectives. We will focus on implementing micro-credentials into educational programmes and conducting scientific research on climate change and its impact on businesses, including the exploration of artificial intelligence possibilities. We will also provide ongoing support to the student business incubator and offer consulting services to start-ups and scale-ups.
One of the key benefits for our project is the opportunity to leverage the international experience and expertise of our partners. As Ukraine looks toward the future, joining the EU is a significant goal. In this regard, the expertise of our colleagues from Bulgaria, Lithuania and Romania is invaluable to us. We especially value our collaboration with Finland, which is one of the most innovative countries in the world.
Our project team greatly appreciate the opportunity to be a part of the ILCA project, and we are grateful to the EIT HEI Initiative for supporting Ukraine and Yuriy Fedkovych Chernivtsi National University during these challenging times.
---
Learn more about the ILCA project.
Publication: 25 July 2023