Increasing students' entrepreneurial skills
The EIT HEI Initiative Team met with Joe Buglass from the University of Central Lancashire, who has been involved in organising Jet Stream − a series of workshops to increase students' entrepreneurial skills, resilience and employability. The workshops are part of HEIght − one of the EIT HEI Initiative's pilot projects − and have helped over 300 students be more successful in any area of life.
Could you tell us a little bit about yourself?
My name is Joe Buglass and I'm Student/Graduate Enterprise and Hub Manager at the University of Central Lancashire. I have worked in enterprise and entrepreneurship for 14 years. Over that time, I've gained a depth of experience working with students, academics, small and medium-sized enterprises, local government, and corporate entities.
Could you tell us more about the Jet Stream workshops?
The initial idea came from the students themselves. They were bright and enthusiastic, but they recognised they weren't getting the results they wanted. Talking to them, I realised that many lacked the skills and techniques I had learnt throughout my career. The current programmes were mainly theoretical in nature and did not provide enough of a bridge to allow the students to apply the knowledge in practice. I also realised that there was an emphasis (and perhaps a little pressure) at university on careers and getting a job.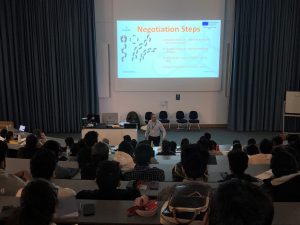 I decided to listen to the students and what was most important to them. Rather than telling them what they should aim for, I broke down what it took to be successful in any area of life and taught them the keystone skills.
Young people know what they want – their main issue is that they often don't know what to do to get it. Jet Stream was designed to fill that knowledge gap and enable them to get accelerated results. Through Jet Stream, we enable students to develop the skills to make their own plans based on their goals and aspirations.
Who did you work with to develop and deliver the workshops?
The HEIght consortium engaged with the training sessions and used the EIT Climate-KIC Community Desk. The drop-in sessions held by the EIT Climate-KIC operations team had the biggest benefit to the consortium. Here we received guidance throughout Phase 1 of Jet Stream (from July until December 2021).
The consortium held regular project team meetings. These provided an opportunity for partners to seek feedback from other partners and fine-tune the programme. When it came to launching the programme, we sent each partner organisation all marketing materials. As a result, we had a lot of students from the partner organisations take part.
What have been the main achievements of Jet Stream?
Based on the feedback we received from students and academics, Jet Stream has a natural place in a wide variety of degree curricula. For example, Jet Stream Lean (concentrated delivery in 90 minutes within allocated teaching time) was run as part of the International Business Communications course. There has been a request to run the programme for the Master of Business Administration course, and there has been interest from several other academics in integrating the programme into their courses.
As a result of our experience in delivering Jet Stream, we will be moving to bootcamp-style formats, aiming for intense, focused activities for students and academics alike. We will also be seeking to embed as many of these into the curriculum as possible.
We surveyed workshop participants before Jet Stream Xtreme (one-day bootcamp-style training that includes all of our workshops), and we collected the following results:
24% believed they could change their mindset and knew how to do so;
26% said they knew how to increase their confidence;
26% said understood negotiate tactics.
We then ran the same survey after the workshops. The results speak for themselves:
96% believed they could change their mindset and knew how to do so;
84% stated that they knew how to increase their confidence;
90% now had a good understanding of negotiation tactics.
Thanks to these fantastic results, we are currently getting interest from academic colleagues, and one of our aims will be to embed Jet Stream into the curriculum and expand on it.
What have been your favourite moments from these workshops?
One of my fondest memories is from Jet Stream Xtreme, where we delivered the entire programme in one day. Seventy students started, and at the end, despite multiple breaks, they all completed the programme. That day, I witnessed the forming of an entrepreneurial community. The students would stay online during the breaks to discuss what they had learnt and help each other.  This proved to me that these young people knew what they wanted; they just needed a bit of help figuring out how to get there.
Looking at the feedback after the event, I realised we had something very special here.
How do you see Jet Stream evolve in the future?
We will build an online learning portal to develop enterprising skills, mindsets and knowledge. The portal will be available to all students, regardless of whether they want to increase their employability, set up a business, or make the world a better place.
Students will be able to select their path using standalone modules. The modules will cover topics from creative thinking to a step-by-step pathway to enterprise creation. The Jet Stream portal will also cater for those who aspire to become social entrepreneurs and make a positive change to their environment.
We hope that the creation of a deeply connected European community, centred around sustainable entrepreneurship and innovation, will have an impact on the European business and education communities. The aim beyond 2023 is to open up Jet Stream to universities and colleges across Europe (beyond the consortium) as a subscription service.