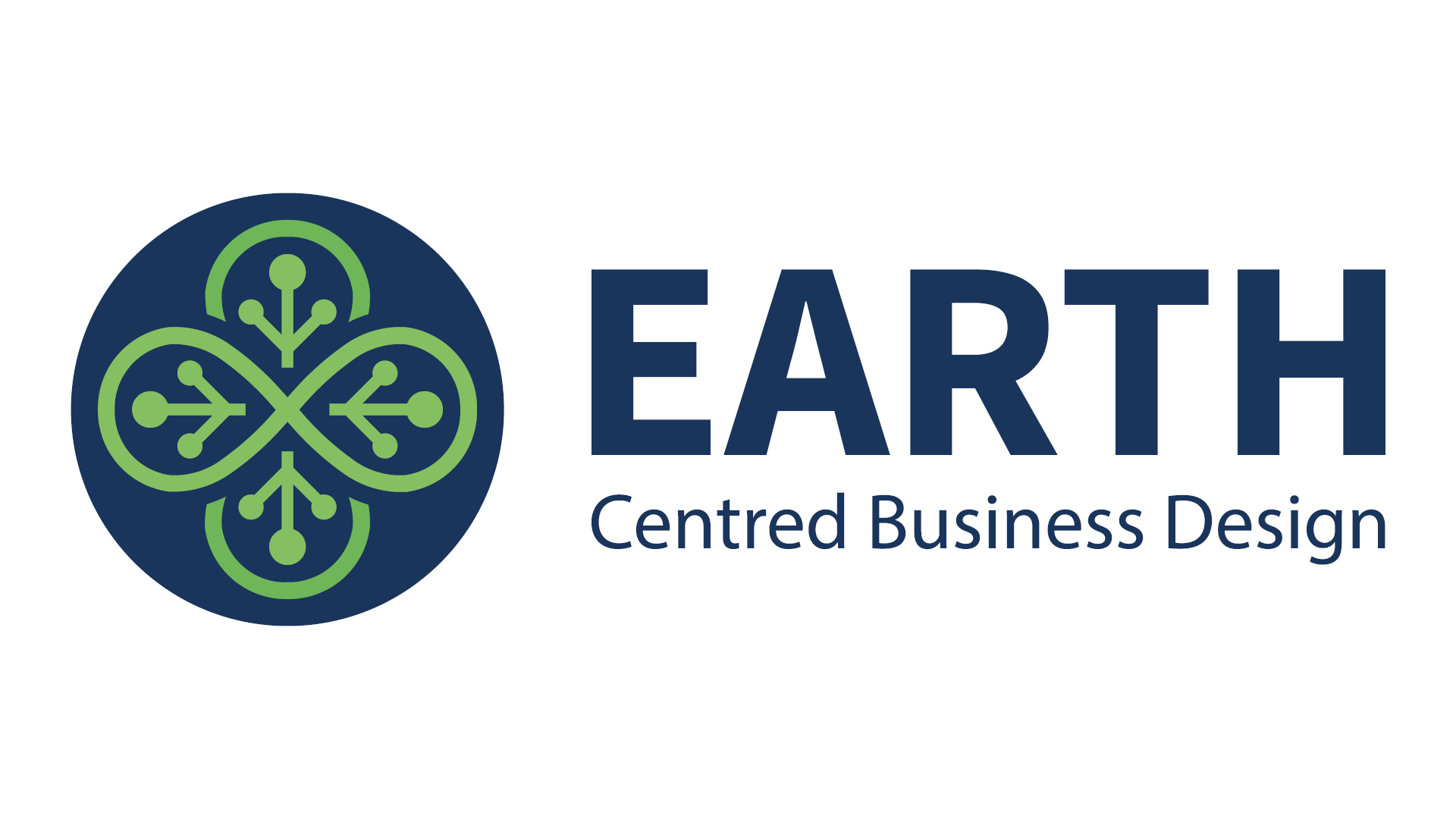 CloudEARTHi´s Earth Centred Business Design (ECBD) framework tool
Small businesses are the driving force of our economy, however, the majority adopt a 'linear business model', which does not account for social and environmental impacts. When a founder creates a business, they often complete a business model canvas and a business plan, but these tools do not enable them to consider the impact of their proposition on carbon emissions, waste, pollution, resource consumption and other environmental and social impacts.
Businesses may revisit these issues through a sustainability strategy once they are better developed, but by this stage significant investment may already have been made to launch and growth the business in way that does not account for, or minimise, environmental and social impact. It then may be harder, and more costly, to amend established processes and to 'retrofit' low carbon, circular thinking to their business model.
ECBD aims to change this. It is a product and a service, formed of a series of unique exercises and a new 'earth-centred' business model canvas, which enables founders to think differently about how they can operate their business to build a more sustainable future. One of the key changes ECBD aims to deliver is helping businesses not only to do 'less bad', but also to be a driving force for good by opening up new markets, customer segments and revenue streams that benefit people and planet. As such, ECBD demonstrates a new way of operating and aims to get founders excited about the opportunities offered in the transition to a more sustainable future.
ECBD provides support in the following areas:
Net-zero and circular operational plan
Product development
Revenue strategies
Consideration of the businesses' role in ecosystem and supply chain
The University of Edinburgh was chosen as the development lead for ECBD within the Consortium for three reasons:
Expertise in entrepreneurship, venture building, business development within our commercialisation service (Edinburgh Innovations);
Academic knowledge and expertise in the relevant thematic areas of circular economy, net-zero, data science and digital technology;
A clear institutional commitment to become a net zero, circular institution across our operations, research, teaching and learning and innovation activities and practical experience of implementing this.
As a leading research and innovation hub for circular economy and climate expertise, the University of Edinburgh/Edinburgh Innovations Project Team's focus was to increase capacity for the University partner institutions to drive low carbon, circular entrepreneurship within their innovation ecosystems through the creation and testing of ECBD. The product achieves this by offering the information, support, and advice start up need to integrate low carbon, circular economy principles into their business models at the earliest stage.
The process of developing ECBD was iterative and strongly collaborative in nature. We worked particularly closely with consortium business partner G-Force – building on their knowledge and experience of start-ups and investors alongside our own – to design the Tool. The initial product was then tested with participating start-ups before it was refined and tested further in a second round of piloting.
We will shortly be making final revisions to the product and developing a plan for scaling up use of the resource across the University, partner institutions, and the wider ecosystem of companies and entrepreneurs we support.
Description of the actions/activities taken:
Start-up companies that used the ECBD to identify opportunities to embed low carbon, circular innovation into their businesses each received an intensive programme of 1:1 support over a period of two months (either online or face to face). This hybrid approach was taken to maximise the flexibility of participating for time-poor entrepreneurs and enable us to tailor support to the needs of different companies. At the end of the process, companies were asked to confirm the actions they planned to take to implement low carbon, circular economy thinking into their business as a result of their participation in the Project.
How was the practice implemented? What does it involve? Why? When did you implement it? Briefly describe the methodological approach step-by-step so that it can be easily understood and replicated by others.
Through a combination of tools and 1:1 support, ECBD allows for the provision of tailored support for start-ups when setting up a business (irrespective of the business sector they are operating in).
Founders were recruited following a short timeframe of "open applications" for access to information and free support. We then designed a tailored programme of support for participating start-ups to suit their individual interests, needs and stage of development.
Each business received support over a two-month period, which included four 1:1 workshops sessions (2 hours per session) and ad hoc advice and support as required. Participants were required to undertake independent learning and reflection during the period of support, which included the completion of workshops that could be reviewed during the workshops. This mix of independent and facilitated learning, help to maximize flexibility for participating companies and to ensure that the workshop sessions were as productive as possible.
Activities of the ECBD framework are organised as follow:
Introduction​

Circular Economy and Net Zero concepts​

Identify your Unique Selling point (UPS)​

Problem Identification​
Value proposition​
Customer Blueprint ​

Vision for the future ​

Net-Zero Cashflow​
Identifying & Visualisation of key areas of importance​
Material flow mapping​

Brainstorm your business strategy​

Circular Business model strategies​
Questions and answers​

Strategic pathways​

Earth Centred Business Design Canvas​
Action plan and timeline​
Outcomes have been identified across several areas from the development and testing of the Tool to date. Participating start ups:
Carbon emissions – have set targets across four key business areas (environmental, social, finance and political) and intend to monitor progress;
Finance –intend to undertake research to ensure financial partners are sustainable, switching banks if they are not;
Supply chain – may take actions to improve the transparency of their supply chains, if relevant;
Scale and impact – intend to deliver sustainability training workshops to customers, if relevant;
Material and product – intend to undertake material flow analysis, if relevant, to reduce material intensity and waste, and enable repair and reuse;
Resilience – intent to improve sustainability of their operations to increase resilience in business planning focusing on stimulating local suppliers.
Context
When founders create businesses, they may not consider the environmental and social impacts associated with their product/service.  ECBD changes this by helping them to embed low carbon, circular thinking from the outset, enabling businesses to actively engage with, and positively contribute to, the transition to a net zero, circular economy.
Audiences
ECBD is designed to support entrepreneurs and company founders. It fulfils a gap identified in existing resources, by supporting founders to consider net zero and circular economy issues at the earliest opportunity in the development of their business. In doing so, it supports the creation of start-ups that are low-carbon, circular by design within the emerging net zero, circular economy.
Start-ups who have benefited from using the Tool to date are Danu Robotics, Ethy, Crover, Heritage Hive and Outfit of Tomorrow.
The Tool can be used by HEI enterprise services to support startups within their innovation ecosystem. Training on ECBD for staff and student enterprise support services teams at Edinburgh Innovations has already begun, with a view to these teams integrating use of the resource within their existing services.
ECBD could also be used by other organisations which support start-up creation (for example, accelerators or business support advisors), also to aid entrepreneurs and founders to embrace opportunities and manage risks associated with the transition to a net zero, circular economy.
Key outcomes
The Earth Centred Business Design Tool (ECBD) is a key output of the CloudEARTHi Project.
Edinburgh Innovations – the University of Edinburgh's commercialisation service – led the development of ECBD in close collaboration with the CloudEARTHi consortium and selected start-ups across Scotland.
ECBD enables the development of low-carbon, circular startup companies, which is an essential component of a just transition to a net zero circular economy. Formed of a series of interactive digital tools, coupled with tailored business mentoring and support, ECBD is both a product and a service. ECBD resources and hands on support enable founders to think differently about how they can operate to build a more sustainable future for their business and the environment.
ECBD was awarded the Scottish Knowlege Exchange 'Making an Environmental Difference' award for 2023, in recognition of the positive impact is had had in increasing capacity for low carbon, circular innovation and entreprenurship.
Key success factors / How to replicate / Sustainability mechanism
The Tool is designed for new start-ups or for founders who are at the start of their entrepreneurial journey.  It requires an entrepreneurial hub, or similar, where founders can be supported to make best use of ECBD, according to the specific needs of their business, while receiving more general business start-up support.
The fact that Edinburgh Innovations has access to a pool of start-ups/founders facilitated the recruitment of start-ups to participate in the piloting of ECBD.  It is therefore important to have a strong entrepreneurial network or ecosystem available, either within the higher education institution or via a partner.
Knowledge of circular economy and net-zero applications is also important for business support practitioners who make use of the Tool. ECBD has learning materials that can be used for dissemination, however, founders will need a level of support in applying knowledge and insights in the tool to their business.  In addition, a business advisor/facilitator should be available to users of the tool throughout, to ensure that any actions derived from using the Tool to deliver circular, net-zero business models are sound.
Project outcomes in more detail:
The overarching outcomes from trialing the ECBD at the University of Edinburgh include:
Knowledge exchange – Sharing academic and practitioner expertise on net zero, circular economy entrepreneurship with members of the University's innovation ecosystem. Opportunity to help curricular transformation by increasing the availability of high quality teaching resources.
Engagement – Opportunity to increase network of founders and start-ups who are engaged in low carbon, circular enterprise.
Teaching – Creation of new opportunities for staff and students to building knowledge, understanding and skills in the area of low carbon, circular business models.
Specific outcomes for participating start-ups are as follows:
Set future milestones and plans to future proof the business and reach net zero by creating 12 targets from 4 different key areas – environment, social, finance and political. They will track their progress every quarter using the work produced from ECBD.
Link to Ethy testimony video:
https://www.youtube.com/watch?v=u7byvlF7aHI&t=39s
Incorporated ECBD learning in their revenue strategy, their supply chain management and set future milestones and strategic plans.
Link to Danu-Robotics testimony video:
https://www.youtube.com/watch?v=ndokRqskko8&t=16s
Used ECBD to map their material and product flows, review their robot design to incorporate modularity and repairability and incorporate the subscription model in their revenue strategy.
Researched and are creating a rating system of fashion brands to partner with; choose the most environmentally sound web host and servers possible, and started gathering data on their impact for future reporting purposes.
Used ECBD to develop their supply chain resilience and scale up their proposition.
Projects
Videos
Links
Contact person
Sophie Rippinger