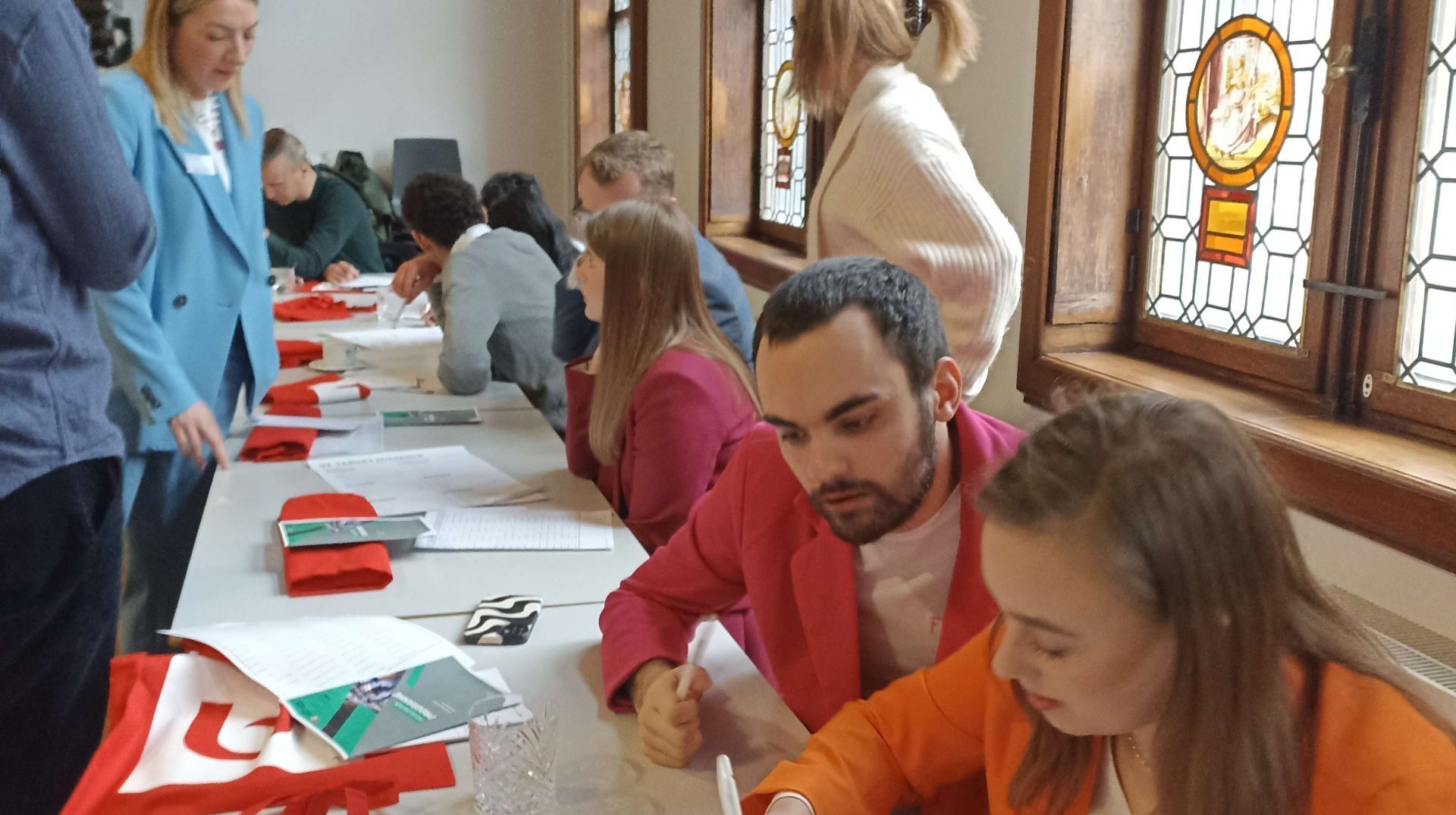 YUFE Acceleration Programme
A first pilot edition of the YUFE Acceleration Programme was hosted online by Maastricht University between 7 and 11 November 2022. The second edition of the YUFE Acceleration Programme was held from 6 to 10 March 2023, this time in a physical format. This second edition was organised and hosted by the University of Antwerp, in close collaboration with YUFE partners Nicolaus Copernicus University in Toruń, the University of Essex, the University of Maastricht and Voka Chamber of Commerce Antwerp-Waasland.
This programme consisted of a four-day training event where the next generation of young start-up founders from the YUFE ecosystem were invited to participate in various sessions to learn about growing their business. Each part of the programme focused on boosting different types of entrepreneurial skills, primarily through hands-on workshops but also through lectures and business testimonials.
To optimise cost-effectiveness and ensure the highest possible level of service delivery, Inno4YUFE partners took advantage of the availability of entrepreneurship and innovation experts across the YUFE alliance and among its associated partners. Through interactive and expert-led  sessions, the participants were stimulated and challenged to think about taking the next steps in growing their start-up. The workshops addressed a variety of issues related to start-up growth, including:
how to strategically manage and grow a business;
how to evaluate and improve a business plans;
what strategies can be used for successful branding and marketing;
how to rightfully implement instruments to promote personalised customer journey stories when connecting with new customers;
how to apply creativity and design thinking;
how to prepare and give elevator pitches.
The closing event of the YUFE Acceleration Programme marked the launch of the YUFE International Start-up Community, and was therefore held in a hybrid setting to allow YUFE Start-up Community members who did not participate in the programme to join the event remotely. This launch event was a keynote speech by leading Belgian entrepreneur and University of Antwerp alumnus Jürgen Ingels.
The event was attended by nine start-up teams of one to three representatives of each start-up selected to attend the event. By inviting start-ups from across the Inno4YUFE network, the programme aimed to enable participants to share their experience with fellow start-up founders from other European countries, thereby giving them the opportunity to network beyond their regional or national ecosystem. These interactions will be further stimulated through the online YUFE International Start‑up Community, which will be a space for sharing information, knowledge and opportunities. Thus, in the future the YUFE Start-up community will leverage its direct access to YUFE start-ups in order to promote and scale-up existing YUFE entrepreneurship initiatives, including the YUFE Acceleration Programme.
Since the YUFE consortium aims to organise YUFE Acceleration Programmes on an annual basis, participants were asked to share their thoughts on different components and aspects of the programme through a feedback survey. This survey aimed to validate the YUFE Acceleration Programme model as a routine activity of the YUFE consortium, whilst identifying areas for improvement or adjustment.
The Acceleration Programme was very well received by the participants. All survey respondents[1] indicated that they were either satisfied or very satisfied with attending the YUFE acceleration programme, with two third of them indicating that they would recommend attending the programme to others. Respondents reported having enjoyed the content and quality of the programme. They enjoyed being able to connect with fellow entrepreneurs in an international environment. The pitching exercise, and the possibility to get direct feedback from the coaches, were cited by respondents as some of their preferred activities
[1] 12 out of 17 participants responded to the online feedback survey.
Context
Due to fierce competition and high growth ambitions, many start-ups have difficulties  connecting with potential customers and becoming financially viable. Since the aim of INNO4YUFE is to boost innovation by stimulating entrepreneurial intention and skills across the YUFE alliance, the INNO4YUFE team decided to provide high-quality targeted training to start-up owners who wish to  boost their entrepreneurial skills in order to grow their business.
Audiences
The people who benefitted from the action were students, alumni and academic staff (PhDs) affiliated to the Inno4YUFE universities. To participate in the programme, applicants were required to have already established their start-up.
Key outcomes
The aim of the YUFE Acceleration Programme was to inform start-up owners about tools, methods and strategies to boost the development of their start-up. Through interactive presentations and workshops provided by experts from the different YUFE universities and associated partners, 17 participants from 9 YUFE start-up were able to acquire and improve their entrepreneurial skills. The participants were supported by experienced coaches throughout and were able to network with   fellow entrepreneurs from the YUFE-ecosystem. The participating start-up teams were all at a somewhat similar stage, which means that participants could learn from one another during the discussions.
The programme covered a topics designed to help participants grow their start-up, including:
Preparing and giving the perfect elevator pitches;
Boosting creativity and thinking with regard to their business;
Exploring business opportunities;
Assessing, evaluating and improving their business plan;
Improving start-up branding and marketing (e.g. customer journey workshop).
Key success factors / How to replicate / Sustainability mechanism
Key success factors
Key success factors relate mostly to the dedication and willingness to contribute of colleagues from the different universities involved in Inno4YUFE, who worked hand in hand to build a high quality yet financially accessible programme:
Institutional support from higher university management was instrumental in supporting the initiative, as organising a physical edition of the YUFE Acceleration programme was only made possible by pooling together resources from different partner universities. This allowed for covering various expenses related to hosting participants in Antwerp, for instance by partially subsidising accommodation for participants or by covering the cost of the final networking event.
The pro-bono involvement of entrepreneurship experts (including from academia) and start-up coaches in the development of each of the activities was crucial to ensure that all activities would meet the expectations of the participants. By attending the entire programme, coaches were able to get to know the start-ups and to provide valuable feedback to their founders.
In may also be worth mentioning that careful selection of participating start-ups also allowed for active participation of all attendees in the different activities. To ensure that all participating start-ups were somewhat similar in terms of their level of advancement, only registered or nearly registered start-ups could apply. This enabled the programme managers to design targeted activities for recent start-ups aiming for acceleration.
Replication & sustainability
Cost remains a barrier to participation in such initiatives, which means that organisers must find ways of reducing costs for participants whilst maintaining programme quality. Participation in the YUFE Acceleration Programme was free of charge, with the possibility for participants to benefit from partially subsidised accommodation. This helped take away some of the financial burden which may have otherwise deterred potential participants from joining the programme. Some universities also provided additional support for their own start-ups (e.g. transportation costs).
A certain degree of flexibility in recruiting participants was necessary to allow a majority of YUFE partners to send representatives to the programme. Each partner university was responsible for selecting their participating start-up(s) based on an agreed set of common criteria. Participation was open to students, alumni and academic staff from the Inno4YUFE partner universities, thereby allowing a greater spectrum of people to be involved.
To secure commitment and allow for a smooth programme delivery, it is important that organisers agree on various technicalities from the early stage of the organisation phase (e.g. free sessions given by lecturers, timely delegation of tasks, concrete division of financing among the institutions involved in the programme). Financial arrangements must be discussed early on, as it usually takes time to come to an agreement and to process invoices.
Financial sustainability of the initiative may be supported by integrating the YUFE Acceleration Programme into future joint European projects of the alliance. Organising the programme at different institutions on the rotating basis may also help alleviate the burden of organisation/cost linked to organising the programme.
Projects
Links
Contact person
Honorata Fajga