EIT HEI Initiative in Ukraine: Creating a digital test bed for AI solutions in health technology
Interview with Anton Popov, innovAId project
The war of Russia against Ukraine has taken a significant toll on the Ukrainian education sector. By the end of 2022, more than 2,000 schools and universities were destroyed or damaged. This puts a whole generation of Ukrainians at risk of not receiving the education they need.
To address the challenges faced by the Ukrainian education sector, the European Institute of Innovation and Technology (EIT) and its Knowledge and Innovation Communities (KICs) are taking a proactive approach to extend invaluable support to Ukrainian universities, students and staff. Recognising the vast array of needs, they are pooling together the available resources at the EIT HEI Initiative level and within the initiative's projects.
We talked to Anton Popov, associate professor at Igor Sikorsky Kyiv Polytechnic Institute (ISKPI) – a Ukrainian partner of the innovAId project. Learn more about Anton's involvement in the EIT HEI Initiative and what impact innovAId has had on higher education in Ukraine.
This article is part of a series about the EIT HEI Initiative's support for Ukrainian higher education institutions.
Could you introduce yourself and the innovAId project?
I am an associate professor at the Department of Electronic Engineering at ISKPI in Ukraine. I am involved in researching how we can use signal processing and machine learning techniques to analyse and understand biomedical signals and images.
In my research group, we focus on different areas like managing epileptic seizures using brain wave and heart rhythm recordings; measuring cognitive workload, emotions and emotional burnout; controlling orthotic devices using muscle signals; studying stability in posture and movement; and using other medical signals and images to diagnose diseases and assess physical conditions.
I am also part of the innovAId project in Ukraine. Our goal is to create a supportive ecosystem for digital health innovation at ISKPI. That way, anyone who wants to develop their ideas in using artificial intelligence (AI) for improving human health can come and work on their projects with our full support. Initially, we are targeting students and researchers, but later we will make our findings available to people from other organisations and fields as well.
What made you decide to join the EIT HEI Initiative community?
ISKPI initially wasn't part of the innovAId consortium. However, additional funds were made available by EIT to involve more partners from Ukraine. At that time, Dr Annemarie van 't Veen from University Medical Centre Utrecht contacted me to discuss whether ISKPI had relevant expertise and ambitions to join the consortium and contribute to the project's goals. After our discussion, we concluded that ISKPI could be beneficial and useful as a partner, and we decided to join.
Being part of innovAId allows ISKPI to strengthen its capacity to innovate in the field of digital health. This means that we will have access to advanced test beds, chances to collaborate with partners from our own country and abroad, and support from experienced managers who specialise in business and innovation. Participating in innovAId allows us to develop and improve creative ideas within the realm of AI and digital health. Ultimately, this will lead to enhancements in patient care and healthcare practices, benefiting those in need.
Why is it important to boost innovation, entrepreneurship and deep tech in higher education in Ukraine?
Boosting innovation and entrepreneurship is crucial because they are vital factors that drive economic growth and enhance competitiveness, especially in the aftermath of the Russian war against Ukraine.
As a higher education institution, it is our responsibility to foster a culture of innovation and offer the required resources and support for entrepreneurship. This is important because our graduates and academics should be at the forefront of developing new AI solutions to improve human health, not just within Ukraine but on a global scale.
How has innovAId boosted innovation, entrepreneurship and deep tech in Ukrainian higher education institutions so far?
Currently, we are in the middle of the project development timeline, so it's too early to share any significant results. However, we have already created a business plan for developing a digital test bed for AI solutions in health technology.
We have set up a website called digitalhealth.kpi.ua, which serves as the main platform for accessing the ISKPI digital test bed environment. This website provides resources for innovators who want to turn their ideas into businesses. It includes educational materials on AI and machine learning, a list of collaborators in the medical field, as well as advisors and mentors to provide guidance.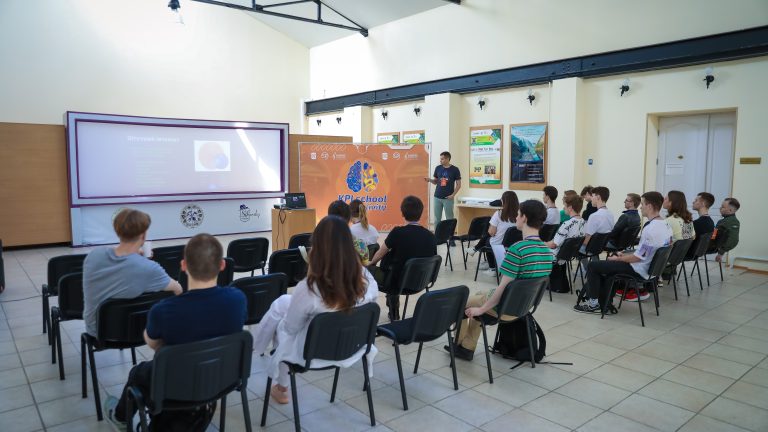 Additionally, we have partnered with the All-Ukrainian Innovation Ecosystem 'Sikorsky Challenge Ukraine', who will offer training in their start-up school. Currently, we are supporting two start-up projects developed by ISKPI master's students. One project focuses on using computer vision for controlling prosthetics, while the other project is centred around analysing the human gut virome.
Recently, we had the opportunity to present the innovAId project and the ISKPI digital test bed to participants at our institute's school of creativity. During this event, I delivered a lecture highlighting the applications of AI in medicine.
How has the war of Russia against Ukraine impacted your project activities?
My university received the invitation to join the consortium during a challenging time when Russia had initiated a full-scale war against Ukraine. I was deeply moved by the genuine willingness of the consortium and project coordinator to support and assist Ukraine. This inspiration fuelled our determination to work even harder in preparation for the recovery following a victory. One of the crucial aspects of this recovery is the application of AI in health technology.
The war of Russia against Ukraine has had an impact on our daily activities within the project. At times, students are unable to participate in webinars due to power outages caused by bombings. The internet connection is often weak because Russia is damaging the telecommunication infrastructure. In some instances, due to Russian shelling of Ukrainian cities, students and professors have had to connect to online meetings from basements, subway stations, underground shelters or even bathrooms. But these are things you can live with when you have no other choice.
I am deeply grateful to the Ukrainian Armed Forces for making it possible for us to continue working on innovations during the war. I also express my gratitude to the people of the European Union for their unwavering support and belief in Ukraine, one aspect of which is this EIT programme, which aims to advance, among others, healthcare technologies through the integration of AI.
What's next for your project?
This year should be very fruitful for the consortium. Each partner will develop their own digital test beds, which will later be interconnected within a network to facilitate collaboration. In the coming autumn, we will organise an online international hackathon focused on AI for healthcare innovations. Additionally, as our test bed grows more advanced and refined, we aim to raise awareness about it among universities and businesses. We will actively seek new partnerships with organisations that can contribute to our digital health innovation support ecosystem.
---
Learn more about the innovAId project.
Publication: 9 August 2023